** Latest Updates **
`````````````````````````````````
To start the game, please download the latest (sro_connector) from here
- Extract Sro_connector inside the game
- Don'et let the antivirus remove it
- Open sro_connector OLD and don't close it
- Start the game and enjoy
** For your security **
`````````````````````````````
- Scan ur PC with a strong antivirus
- Change PW constantly every 1-2 weeks with capital and small letters and numbers
- Don't give ur ID-PW to anyone
- Don't give ur items to anyone
- Lock ur items ( ITS A FREE SYSTEM )
- Don't accept any weird links at ur FaceBook account
At last change ur PW now as a start to protect ur account
Regards.... Chaos TEAM
EXCLUSIVE * CHANGE RACE System 23-8-2017
Info: Change ur Race from CH to EU or EU to CH

Normal Unique Rank System:-
We introduce a new Normal Unique system. For more fun and more helping from us to all players, we just doing our best to create FUN from anything we have.
1- Unique Killer Title ( like: TigerGirl Killer )
1- Tiger Girl
2- Captain Ivy
3- Cerberus
4- Uruchi
5- Isyutaru
6- Lord Yarkan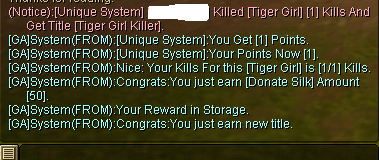 Weekly Update 9-7-2017
- Warlock Stuns has been increased from lvl12 to lvl13
- Force debuffs has been increased from lvl12 to lvl13
- Advanced Reflect Probability has been decreased (balance)
- Add a new teleport to Phantom Desert from Baghdad/Hotan
- New Devil avatars changed [Scorpion Avatar]
- Add Silk per hour system and give Gift Silks[Not Free Silks]
- Warrior skills has been modified
- Wizzard skills has been modified
- Some of Cleric buffs has been fixed
- Attack pet HP potion recovery has been increased
- Add Mastrey Scrolls Shop [ skills lvlup ]
- Title shop has been removed
- Add title system by PM. PM [GA]System with Hi and follow the steps
- Honor rank is daily refreshed
- Farming at Job Room = NO Points = NO HONOR
- Locked system has been add for EGY Style
- Ramadan Scroll has been disabled
- Attack Pet HP has been increased (players request)
- Add: How many Online players at the site(refresh every 5mins)
>> Next Update info:-


- Add a new shop sell some important scrolls/items+ Immortal 15D with this gift silk [not tradable item].
- Add all new avatars at the shop ( like Blue Soul Knight...etc )
- Remove 12D immortal/Astral from Donate Shop
- Remove Lock Scroll [Lock system is working perfectly]
- Remove Change weapons scrolls from shop/procedure
- Decrease Switch weapons price from 150 to 100 silk[From 9D to 15D]
- You can switch any weapons from the new Switch Weapons system
- Remove Reset status scroll
- Remove Reset skills scroll
- Remove Job Penality scroll
- Remove Premium remove scroll
- Remove Change name scroll
- Remove Max Durability remove Scroll
- Remove FGW Books remove scroll
- Add Reset system by PM [Status-Skills-Job-Premium-ChangeName-ADV-MAX-FGW] PM [GA]System with hi and /Reset

Free systems:-
- Premium Remove system
- ADV Remove system
- Max Durabilty system [HOT:it remove MAX Only not all blues]
- FGW Books remove system
Any ideas for the next update, send me a msg at our FB FanPage . Regards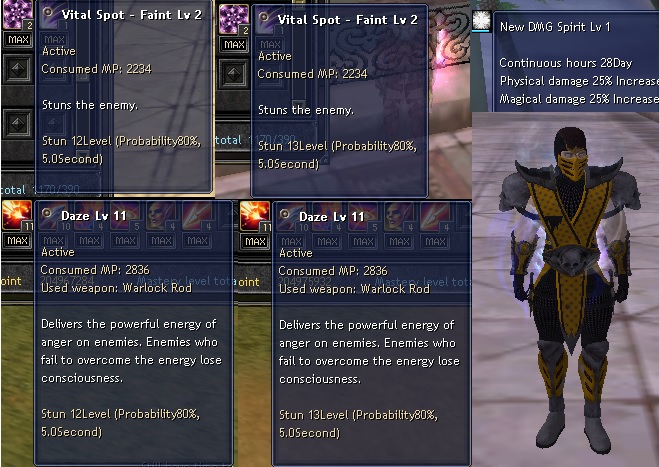 A new PVP system has been released

- Hi guys, we are doing our best to create more fun by anyways.
- To start the system PM [GA]System with hi. And follow the video
>> The system is a pvp 1 vs 1 with anyone u'll choose. And u'll play for gold or silk.
Edit:- /PVP is the key to start the system instead of /Challenge
Update info 29-5-2017:-
- New Intro to avoid crashing for some ppl
- Jangan FW has been disabled
- Bandit FW has been disabled
- Constantinople FW has been Enabled
- 15D immortal icon has been changed to avoid scammers
- Critical stone bug has been fixed
- Add new Happy Ramadan Scroll